The Eco-Fair project has honor to great the European Union Commissioner for Agriculture Janusz Wojciechowski
On the morning of July 12, 2022, the Project "Promotion of supply and demand of  Eco-Fair agri-food processing products in Vietnam" (Eco Fair project) was pleased to welcome European Union Commissioner for Agriculture Janusz Wojciechowski visited Vietnamese businesses within the framework of the Project's support.
Implemented with funding from the EU through the EU SWITCH-Asia program, the Eco-Fair project aims to promote sustainable production and consumption of eco-fair agri-food processing products in Vietnam.
Despite the impact of the Covid-19 epidemic, with a suitable and flexible project design, the project has implemented activities and achieved most of the initial goals for 18 months such as:           Online training for over 1000 businesses and cooperatives, half a million consumers are reached with awareness raising courses; Conduct 200  quick assessment on Resource Efficiency and Cleaner Production, product innovation and technology innovation; Set up a network of 20 eco-fair retailers/shops in Vietnam to promote for local eco-fair products; 5 eco-fair and circular economy codes of conduct set up by sectoral associations; 05 policy recommendations; 4 training classes for subnational agencies to build capacity for line-ministries' systems; and 01 national policy dialogues
Currently, the project is supporting for 23 businesses and cooperatives to conduct self-assessment and register for eco-fair certification (EU Organic, USDA, Global GAP, FLO, WFTO, TCVN organic, VietGAP, OCOP…), support in packaging design, promoting communication for eco-fair products to be ready for export to the EU and other international market. Coordinating with national associations to develop Code of Conduct and policy proposals for the industry (Vietnam Organic Agriculture Association, Vietnam Cashew Association, Vietnam Fruit and Vegetable Association, Vietnam Livestock Association). Although the project target is agri-food processing products for direct intervention, the project also expands the support for market connection for a wider range through the sustainable platform of the International Trade Center. 
In the afternoon, in an official interview with Vietnam Television, Commissioner Wojciechowski mentioned the great prospects of the EU-VN Free Trade Agreement (EVFTA) and the increasingly important sustainable agricultural practices, which will bring about significant benefits to the agri-food markets of both sides.
Link: https://www.facebook.com/EUandVietnam/posts/469644775191547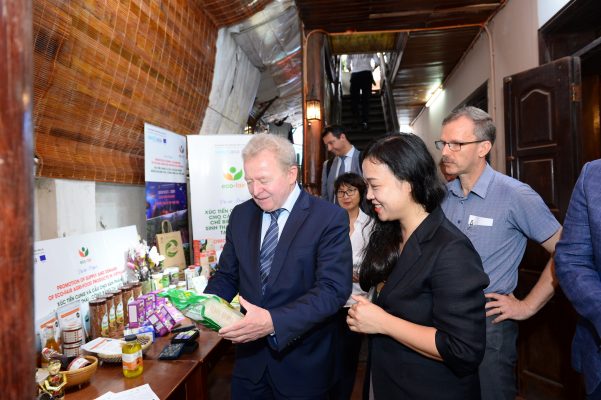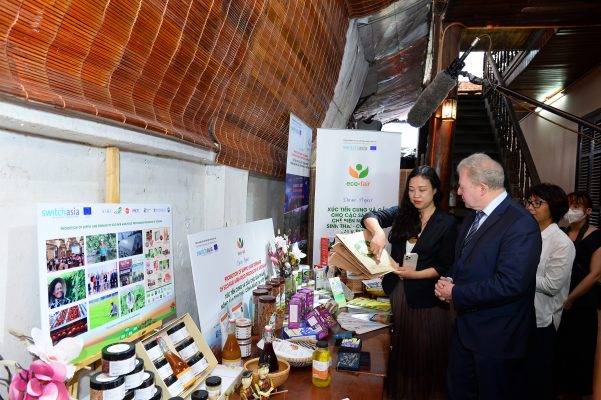 (The picture credits to the EU Delegation to Vietnam)