Importer "tips" for Vietnamese agricultural products to penetrate international market
Vietnamese agricultural products have conquered many fastidious markets such as the EU, the US, and Japan. However, there is a far distance to go to penetrate deeply into the market.
Compete with preservation technology
Seafood, rice, fresh fruit, rice noodles, dried vermicelli, etc. of Vietnam are no longer rare products in the EU, Japan, and the US. However, the export value is not high, and competitiveness is still limited due to high transportation costs, unstable product quality… Therefore, although Vietnam has signed bilateral trade agreements with many markets, the export value of products is far below expectation.
Mr. Pham Van Hien, Director of LTP Import Export B.V., which is specialized in importing Vietnamese agricultural products to the EU, said that recently, many fresh fruits of Vietnam such as lychee and longan have been exported directly to the EU, but with very limited volume. "Although shipments by air have more or less made an impression on EU consumers, but in the long-term, to increase volume and competitiveness, exporters and localities need to cooperate to improve the planting zone, increase the planting area following VietGap, GlobalGap standards…", Mr. Hien said.
The key to boost export, according to Mr. Hien, is that businesses must invest in preservation technology to buy several additional weeks remaining fresh for fresh fruit travelling by sea to the EU. "Recently, we imported Son La longan by air to the EU, but there are still many damaged products due to poor preservation technology," Mr. Hien shared.
In the EU, Vietnamese agricultural products have to compete directly with Thailand and Chinese products, not to mention products from Central America and South America with lower prices and cheaper transportation costs due to short distances. The good news is that recently, thanks to preservation technology, a Vietnamese lychee shipment by sea to France had the price one-third cheaper than by air, even while shipping costs were abnormally high.
From the experience of importing and distributing Vietnamese products in Japan, Mr. Can Thanh Trung, CEO of Kome Co Ltd, said that some exporters still have not declared product ingredients in the production process… Meanwhile, products destined for Japan, upon customs clearance, will be checked for ingredients and will be destroyed or returned to the country of origin if the results are not as declared, causing huge damage to the businesses.
Therefore, Mr. Trung recommended that manufacturers and processors of agricultural and aquatic products in Vietnam have a product declaration detailing ingredients and additives. In particular, Vietnamese businesses must maintain product quality, selling prices, and upgrade export processes to be more professional.
Keeping shipments stable
Vietnam exports over 6 million tons of rice per year, contributing over USD 3 billion to the export turnover of the entire agricultural sector. Taking effect from August 1, 2020, the EU-Vietnam Free Trade Agreement (EVFTA) has opened up opportunities for many agricultural products, including rice exported to the EU, to enjoy 0% tax with a quota of 80,000 tons. However, to conquer this market, enterprises still have a lot to do, first of all, to ensure the quality of rice grains in each shipment.
According to agricultural product importers in the EU, Vietnam produces many types of agricultural products. But for rice alone, despite the advantages due to the FTA and the transformation of some large enterprises in recent years, Vietnamese products are still behind products of Thailand and Cambodia…
Mr. Hien said that Cambodia started exporting rice about ten years ago but has placed itself in top 5 exporting countries to the EU. Obviously, to affirm that as a strong rice exporter, Vietnam needs to try more.
"European consumers have popularly used Thailand rice for 30 years, but we have initially encouraged customers to use ST24 and ST25 rice from Vietnam. The problem lies in the shipments of fragrant rice, jasmine; in particular the unstability between different shipments. On the contrary, Thailand does this very well in ensuring stable quality," Mr. Hien said.
The representative of Vietnamese businesses in the EU affirmed that, in addition to vegetables, rice, and dry products, EU market also has a great demand for seafood. Still, the price of products imported from Vietnam is higher than from India and Ecuador. Thus, they hope to connect with many domestic seafood enterprises with attractive prices, taking advantage of the EVFTA so that Vietnamese products can compete better in the EU.
According to importers, the pandemic has dramatically affected demand, causing a significant drop in orders, but the market is gradually recovering. Therefore, Vietnamese exporters need to be proactive in stockpiling raw materials, understanding information about importers and keeping track of ship schedules to ensure timely shipment.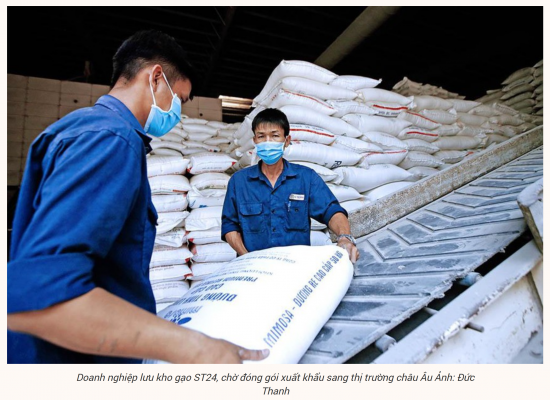 Author 
Hai Yen/ baodautu.vn (Nguồn: https://tinnhanhchungkhoan.vn/nha-nhap-khau-mach-nuoc-cho-nong-san-viet-bam-chac-thi-truong-quoc-te-post277070.html)