Businesses expect support and consultation on circular production
Kinhtedothi – The Covid-19 pandemic has made huge impact to society, especially the business community who are facing great challenges in maintaining production and business, and stablizing the lives of workers. In this context, enterprises really need support and advice on economy and circular production, which has been partly answered by experts and managers.
Towards sustainable development
Addressing these concerns and problems, Deputy Director General of Vietnam Trade Promotion Agency Hoang Minh Chien informed that in order to support the business community, the Vietnam Trade Promotion Agency, in collaboration with domestic and international partners, regularly organizes seminars and focus on raising awareness and building capacity for businesses, especially small and medium-sized enterprises on sustainable production, processing and business practices.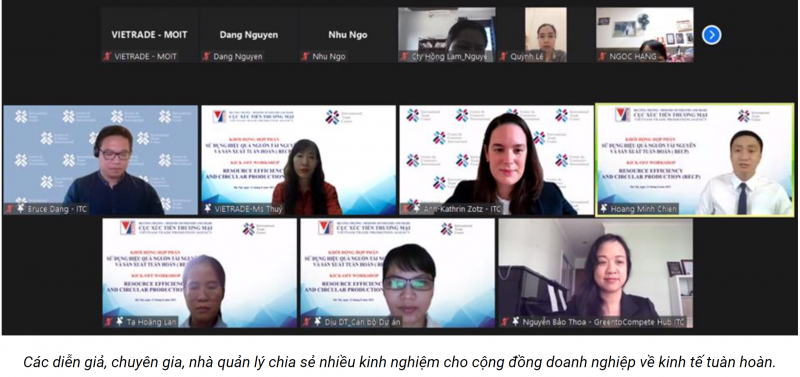 Speakers, experts, managers share many experiences for the business community about circular economy.
This training content focuses on: Assessment of actual resource consumption (energy, water, production inputs) and (liquid and solid) waste production levels; Develop strategy for efficient use of resources and circular production; Access to technology and "green" finance to be able to implement business strategies.
"The complicated Covid-19 has made adverse impacted on all aspects of global socio-economic life, changed people's perception globally, and deepened the demand for changing the growth model towards sustainable development" – Deputy Director General of Vietnam Trade Promotion Agency Hoang Minh Chien said.
In that context, many countries around the world are robustly transitioning to a circular economy. In Vietnam, the Resolution of the 13th National Congress of the Party has identified building a circular economy as one of the country's development orientations for the 2021 – 2030 period.
According to Mr. Hoang Minh Chien, currently, most of small and medium enterprises face many barriers in moving towards the circular economy, such as lack of mindset and awareness about circular economy, lack of commitment and persistence from leadership, lack of information, human resources and financial resources. Vietnam Trade Promotion Agency is implementing step-by-step training activities, consulting, supporting to develop the plans towards circular economy and organizing practical events to support businesses to overcome difficulties during the Covid -19 pandemic and in the future.
The promotion of production in compliance with mandatory and voluntary sustainability criteria, use of resources, fuel and waste treatment, etc. is absolutely necessary, receiving great attention, interests and expectations from the business community during this time.
Mr. Hoang Minh Chien emphasized: From the actual requirements of the market, products with sustainable certificates are always appreciated and have advantages in price negotiation. Enterprises can be more aggressive,  more confident and more determined on the path to sustainable production and processing, and circular economy.
New business opportunities
T4SD Global Project Manager (ITC) Ann-Kathrin Zotz said that participating businesses will enjoy many direct benefits when participating in the project, including: Firstly, increase international competitiveness of actors in the value chain through reducing production costs and increasing productivity; Secondly, creating new business opportunities through the development of new products and services; Thirdly, create opportunities to access green finance.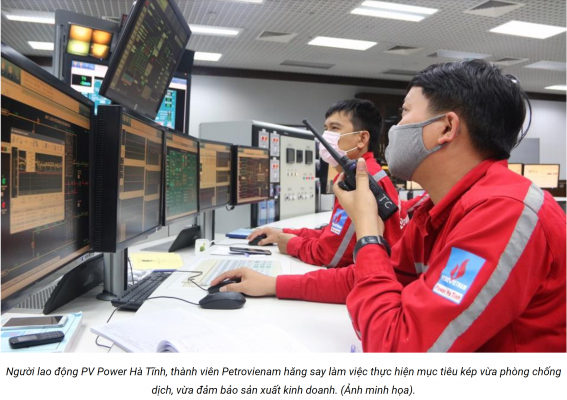 PetroVietnam's PV Power Ha Tinh employees enthusiastically worked to realize the dual goal of preventing the pandemic and ensuring production and business. (Illustration).
According to a quick survey, businesses currently have concerns and face with challenges around such issues as where to start the transition towards circular economy, production, what is the plan for human resources and finance, who can provide technical and financial support, etc. In addition to provide consultation to businesses on problems, consulting channels such as face-to-face dialogue, emails, working groups have been created to ensure timely information and technical support for businesses.
Director of Eco Bamboo Vietnam Company Nguyen Thi Hieu Hong shared: we are quite confusing about where to start the transition towards circular economy, production, while we are still carrying out traditional production. Enterprises really expect to receive specific guidance and advice in terms of mindset and technique, support in overall and detailed planning, especially the roadmap and specific steps, human resources, infrastructure or machinery, and budget for operations."
"Sharing is a good opportunity for businesses to have a better view of the circular economy and circular production, helping businesses take advantages and reduce limitations of this process." – Ms. Nguyen Thi Hieu Hong affirmed.
The webinar "Initiating the component: Resource Efficiency and Circular Production (RECP)" for businesses that have registered to participate, within the framework of the project "Trade for sustainable development" – T4SD", implemented by the Vietnam Trade Promotion Agency (Ministry of Industry and Trade) in collaboration with the International Trade Center (ITC), a union agency of the World Trade Organization (WTO) and the United Nations (UN), held in Hanoi on August 13, partly solved the problem.