Fields without pesticides in Hanoi
Kinhtedothi – Hanoi is one of the localities with the largest cultivated area in the North with nearly 200,000 hectares. Over the years, thanks to efforts in changing farming methods, protecting the ecosystem and creating safe products, many districts in the City see more and more safe production areas without using pesticides.
When arriving at Vinh Thuong village (Son Cong commune, Ung Hoa district), we were surprised to see the vast vegetable fields free of pesticides. To have these clean fields, Vinh Thuong villagers have used natural biological products, contributing to environmental protection as well as ensuring the products output quality.
Mr. Nguyen Van Hung, Director of Vinh Thuong Agricultural Service Cooperative said: "Towards the development of safe vegetable areas, recently, local authorities have delivered training courses for farmers on how to grow safe vegetables. Accordingly, farmers have well implemented the process of growing safe vegetables and fruits without using pesticides or inorganic fertilizers.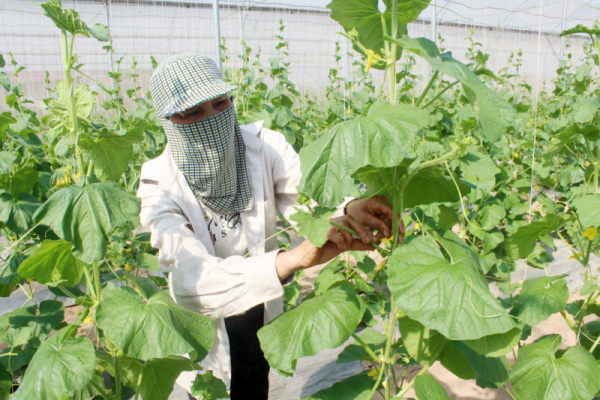 Mô hình trồng dưa lưới trong nhà kính của Hợp tác xã Dịch vụ nông nghiệp Vĩnh Thượng (xã Sơn Công, huyện Ứng Hòa). Ảnh: Ngọc Ánh 
Not only rice, vegetables, many fruit planting zones in Hanoi are also moving towards organic fruit planting, without using pesticides. Mr. Nguyen Van Nam's family in Nam Phuong Tien commune (Chuong My district) has more than 1 hectare of 400 Dien pomelo plants. He shared that, for excellent quality and safety, farmers only kill yellow flies using sticky traps, treat stem fungus by spraying potassium and nitrogen; organic fertilizer mixed with EM, soybean, fish soaked in probiotics…
According to Mr. Nguyen Manh Phuong, Director of the Hanoi Plant Protection and Cultivation Sub-Department, in 2020, the amount of pesticides used by Hanoi farmers was 239 tons/year, or 1.5 kg/ha/year on average, in which there were some districts with very few amount used such as: Phu Xuyen (0.26kg/ha/year), Chuong My (0.3kg/ha/year), Ung Hoa (0.3kg/ha/year), etc. These achievements are obtained thanks to very good and effective communication to farmers.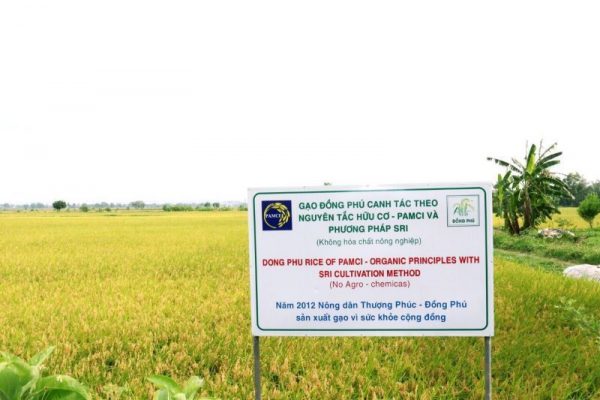 In the past 5 years alone, Hanoi has organized 1,139 training courses on vegetable IPM for 34,170 farmers, in which 100% of farmers have applied and shared to 50,000 other farmers; 897 short-term training courses on food safety in safe vegetable production for 49,500 people, of which, 100% of the participants understood the regulations on food safety; deployed and implemented more than 500 experiments of new techniques without using pesticides, such as: mulching with plastic film, net houses for off-season vegetables, deployed in 116 communes.
Mr. Ta Van Tuong, Deputy Director of Hanoi Department of Agriculture and Rural Development said that in order to multiply the production area without pesticides for rice, the agricultural sector directs planting and plant protection stations in districts, towns and communes to carry out consistently the following steps, such as: Choosing a set of varieties with good resistance, transplanting under SRI with young/thin seedling, withdrawing water for a period of time, taking care of in each stage, applying fertilizer reasonably…
For fruit trees, after harvesting, it is necessary to clean, cut branches, prune the canopy, apply fertilizers reasonably, mainly rotting organic fertilizers combined with lime and phosphorus, avoid overusing chemical fertilizers. For vegetables, farmers are trained with safe production techniques, VietGAP, organic, using bait traps, sticky traps to eliminate pests…
(Source: https:// Kinhtedothi.vn/nhung-canh-dong-khong-thuoc-bao-ve-thuc-vat-o-ha-noi-428952.html)